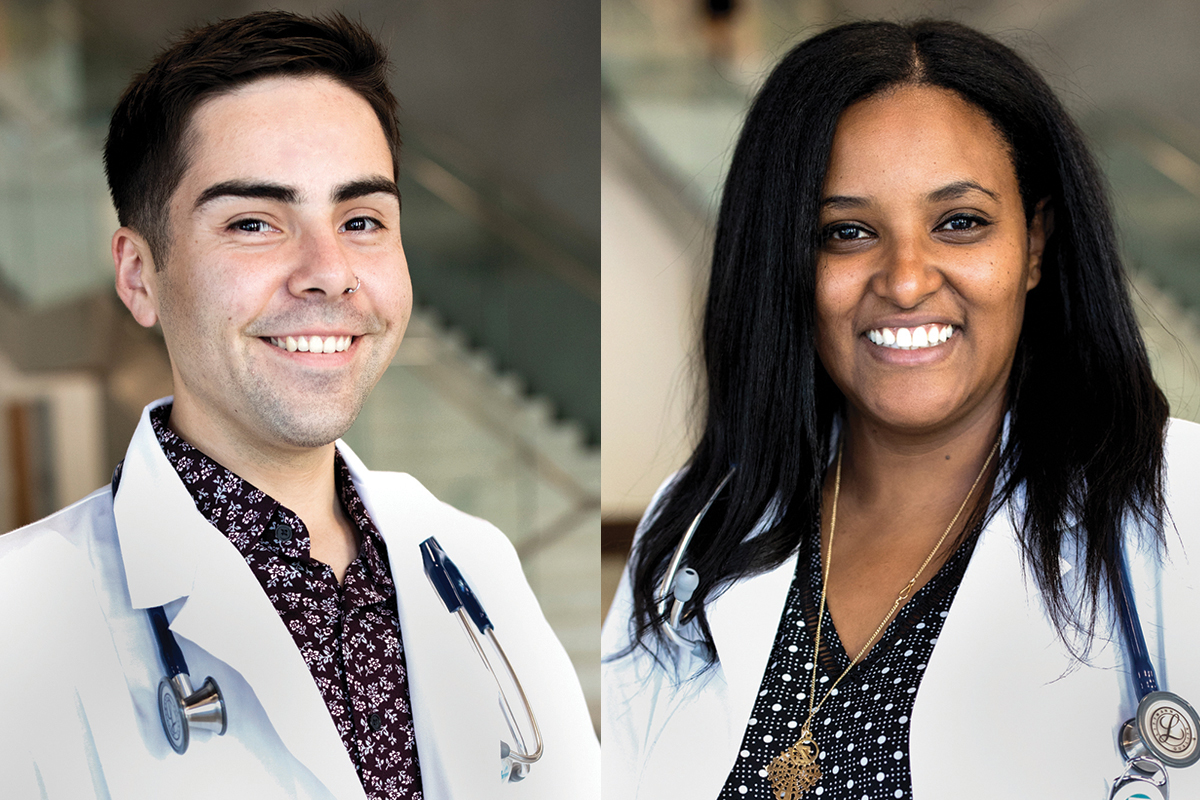 In 1978, the first cohort arrived in Berkeley to begin the UC Berkeley-UCSF Joint Experimental Program in Medical Education. The five-year program included three post-baccalaureate pre-clerkship years in health sciences and medical education at Berkeley, followed by two clinical years at UCSF. The program intended to expand the definition of health from a physician's perspective beyond the boundaries of medical care.
Fifteen years later, this program joined the UC Berkeley School of Public Health and became known more succinctly as the UC Berkeley-UCSF Joint Medical Program, or JMP.
The JMP attracts medical students passionate for scholarly inquiry to improve the world's health. While working towards an MS degree in Health and Medical Sciences, these students learn the foundations of being a doctor through student-led, faculty-supported Problem Based Learning (PBL) curriculum.
Typical of medical school, the JMP puts students through the ropes, where they juggle a master's thesis with PBL and clerkships, giving students opportunities to earn real experience both in the hospital and in health scholarship. JMP students Zesemayat Mekonnen and Jose Cortez give a glimpse into a typical week of the caffeinated and fast-paced yet rewarding and expansive JMP curriculum.
Monday
ZESEMAYAT "ZESEE" MEKONNEN: It's Monday at 9:10 a.m., and we're back in the classroom. I wonder who is snack keeper this week and what kind of snacks we'll get: homemade treats or store-bought granola and fruit. Strawberries, nuts, and a lemon tart!
The bell snaps me out my thoughts. Our Problem-Based Learning (PBL) case begins with a chief complaint. 66-year-old Mr. X presents in the ER with shortness of breath and fever. The classroom comes alive with a differential, making use of the mnemonics that have streamlined our various ideas into a structured hypothesis. One person at the board writes our top three diagnoses and work-up plan as we continue with the case. Past history of smoking and diabetes. Temperature of 102. Normal heart rate.
We come up with questions as we flip each page, hoping they will be answered later. But we're also keenly aware that some of our questions never get answered. Real patients aren't like textbooks—something we keep reminding ourselves when we get stuck and can't explain a patient's renal function or high potassium level. I end PBL with coffee on my mind.
JOSE CORTEZ: Each time I arrive at the clinic I feel anxious. The elevator ride up to the 3rd floor always seems to be just a few seconds shorter than I want it to be. As I walk past the clinic doors and am greeted by the nurses at the front desk, I remind myself to "turn on extrovert Jose," a task that is far more difficult for me than probably should be.
I never know what to expect when I'm in clinic. Some days go by smoothly as we see patients for straightforward, easy to manage presentations. However, likely because I am still a student, most days are filled with complexity, which end up being incredible opportunities to learn and grow as a provider. Today, I had my first experience working with an interpreter, and it was awkward. As I was stumbling through the first bit of the patient interview, I took a moment of pause and communicated to the patient it was my first time. The patient was understanding and very graciously agreed to slow down so that we could get through the interview together and ensure I collected all the necessary information. As I left the patient's room I felt tense. However, when I relayed the patient information back to my supervising provider I got a "great job, Jose!" and felt relief.
As a medical student, I am constantly trying to balance the feelings of imposter syndrome and anxiety with my hunger to learn. Therefore, I feel incredibly lucky to be at a program that has exposed me to patient care and the clinical environment from day one. When I reflect on my ability to see patients, I recognize I've had tremendous growth over the past two years. I understand why medicine is often referred to as a practice; it is through constant practice that providers become master clinicians. The JMP recognizes the importance of early clinical exposure, and although it was initially really tough, each clinic day has become a little easier. The slight anxiety I feel when I arrive at clinic has never gone away, and probably never will, but I've gotten better at managing it as I grow more confident in my clinical skills.
Tuesday
ZESEE: Masters. Masters. Masters. I awake to the looming deadlines of my master's thesis and inevitable realization that although the move to SF over the summer saved me from the stress of searching and moving right before clerkship, it also meant I would now have a daily commute back to the East Bay.
I walk into the suite and head straight for the M&M dispenser. My daily treat, refilled by the staff and student donations. Then I head into my thesis meeting with my adviser to go over my data analysis and currently, nonexistent figures. I'll need to spend the rest of the day working on R and drafting my methods section. Meeting one is over. Meeting two is clinical skills practice with my classmate. We head into our clinical skills room and take turns conducting the neuro exam. Essentials only, for now. Mini Mental Status, Cranial Nerves, Motor, Sensory, Reflex, etc…maybe we'll actually get a reflex done right before clerkships start. Or maybe, we'll continue practicing and hoping we'll finally get the right flick of the wrist and angle to elicit the right action. As we review the differences between Delirium and Dementia and Altered Mental Status, we see pieces of PBL reveal themselves as we work through the differential. "Remember, that case with the elderly woman who had pernicious anemia. Let's add B12 to the workup." We continue through the case and then head out to study and review Learning Objectives before tomorrow's PBL.
Wednesday
JOSE: When I'm in PBL, I feel like a detective. I'm working to gather information to help care for a patient, information that spans physiology, pathophysiology, pharmacology, and so on. I have the independence to guide my learning through the foundational sciences, which is an experience I never knew I could have.
I remember our first day of our PBL case, when we were presented with a patient who had suffered extensive burns to several layers of skin. Before med school I had worked at a large level 1 trauma center in southern California, where I occasionally saw burn patients. I would quietly observe as providers in the emergency department scuttled around at high alert. At PBL, I would finally learn more myself about the pathophysiology of burns.
My colleagues and I quickly assembled a differential including burns of different causes and drug reactions that may mimic burn lesions. We collected information on the management of burns, including the need to assess the lungs, watch for infections, and maintain adequate fluid balance. I'm thankful for the past two years of collaborative work experience. Teamwork is central to patient care, and JMP has uniquely prepared us to provide the best care we can.
Thursday
ZESEE: I walk into Berkeley Way West and immediately set up my PowerPoint to the projector. We will be reviewing my figures today in preparation for Master's Symposium. I take a sip of my coffee, a prerequisite for the 8 a.m. start, and ready myself for the student feedback on what is the best way to present my data. But first, we go around a circle checking in about the current state of our projects and troubleshooting any hiccups students have had in the past few weeks. I present my initial findings and diligently jot down the suggestions I received and make a mental note to make changes before our next class meeting.
I finish my work lunch as I prepped for clinical skills and walk into the classroom. Today's lesson plan is focused on liver failure. Our professor, an infectious disease doctor focused on HIV, has a number of cases we will review today to improve our clinical reasoning skills. We begin similarly to PBL with differential diagnoses but this time, we are pushed to state what physical exam and lab findings will help us rule in and rule out one diagnosis from another. After we finish working through the cases, a visiting Emergency physician shows up with an ultrasound machine and orients us to the basics of knobology. We pair off into groups to practice using the ultrasound machine but also to review the physical exam tests we do when we suspect liver failure. I always found it funny how we practice the physical exam on each other, attempting to elicit a fluid wave shift on each other. Each attempt a game of make-believe as we yearn to become as proficient as the professors teaching us. Hopefully, one day we will.
Friday
ZESEE: I step into the last open seat in the back of the Multivariate Statistics classroom and pull out my computer to listen to the professor discuss the theory behind linear regressions. He deftly explains words and concepts that before seemed foreign to me: constant variance, dummy variables, and multiple correlation coefficient. I sit through the three-hour lecture, constantly glancing at my programming software and his lecture slides as I try to maximize my efficiency. Once class ends, I head back onto BART for the long ride back home and pray I find an open seat to sit and study in during the commute.
JOSE: People often ask me how I'm able to concurrently work on a master's degree and the preclinical foundational sciences. The answer is coffee, more coffee, and I suppose the occasional time management.
I started working on my master's thesis during my first year and spent a significant amount of time finishing up the project design and data collection during the summer. My winter break was spent cleaning up my data and running a large part of the data analysis. I've spent the remainder of my time finishing up analysis and writing. I've also interspersed additional (additional?!) courses to support my understanding of research methods and statistics, to facilitate my ability to execute my project. That brings us to today. I have designated a half morning each week to working on my thesis, but the work isn't that neatly contained. Long commutes from San Francisco to Berkeley end up being the perfect opportunity to finish up a figure. Small chunks of time between meetings and classes are excellent opportunities to write up pieces of the analysis. Weekends too are great opportunities to look over reviewer's edits, though definitely over brunch and a mimosa.
I'll admit, balancing two degrees has been really tough. Would I do it again though? Absolutely. In many ways, I feel like learning how to balance medicine and research is a skill that most physicians end up having to learn at some point in their careers. The MS at the JMP has provided me with so much more than just a degree. I've learned about grant writing, research design, researcher collaboration, research interpretation, research dissemination, and yes, time management. These are useful skills for me in my pursuit of a career in academic medicine, though useful also for all physicians, regardless of whether they are involved in research. What's next? In the following weeks I will be filing my thesis to the graduate division, submitting a manuscript for publication, and preparing for the wards at UCSF in January!