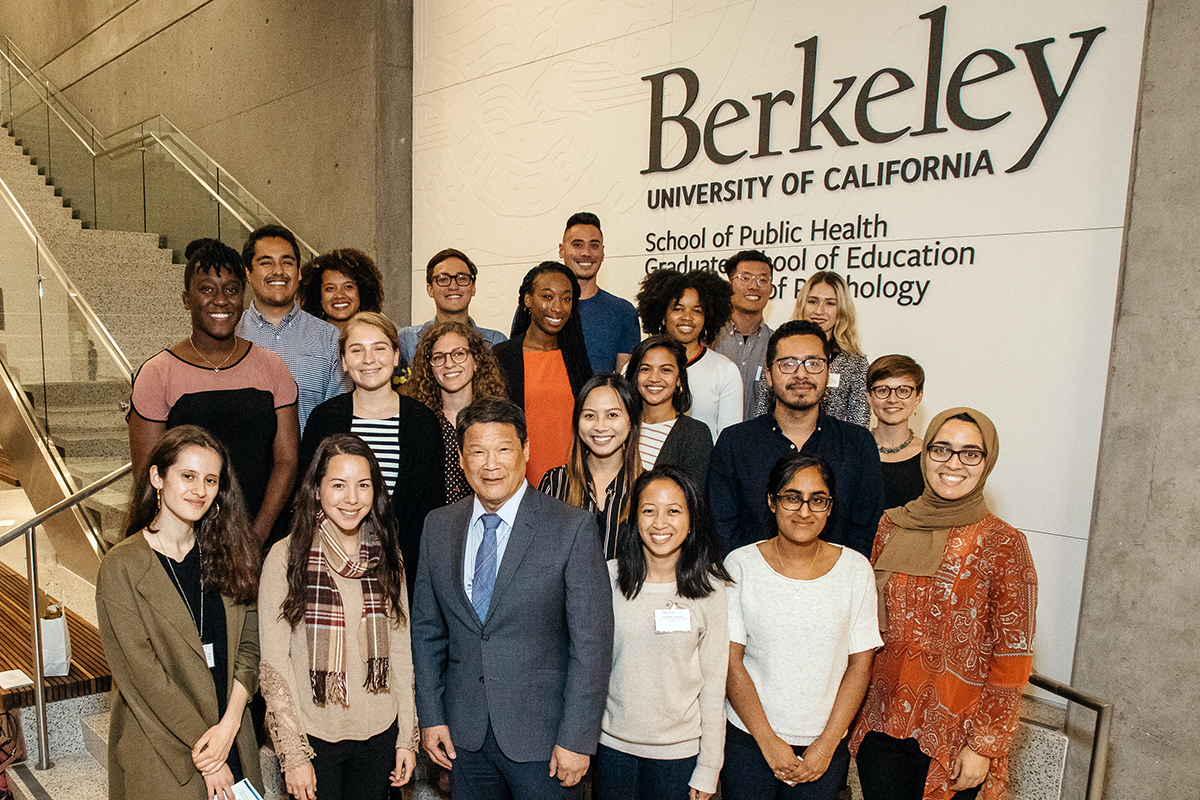 In the spring of 2017, Juan Carlos Piña accepted an offer from the School of Public Health's Health and Social Behavior program to join the next cohort of MPH students. But he soon found himself reconsidering his decision due to the anticipated expenses.
Then, in July, he learned he'd been named one of 23 Kaiser Permanente Public Health Scholars for that year. He would receive a $15,000 stipend for each of his two years in the program—almost enough to cover his tuition.
"I was blindsided by the opportunity," says Piña. "I had no idea that the program existed. It was like a miracle."
The UC Berkeley–Kaiser Permanente Public Health Scholars Program was designed to support students like Piña. As an undergraduate at UC Davis, Piña had sought out opportunities to help others from disadvantaged backgrounds—translating for an immigrant law clinic, for example, and mentoring low-income high school students.
After graduation, Piña worked as a junior specialist with the University's Center for Health and the Environment, conducting a study on heat illness prevention among fieldworkers. From an early age he became familiar with the many challenges facing farmworkers and their families—his parents had emigrated from Mexico to work in California's agricultural fields—and he sought to give back to this community.
"Because of the skills, knowledge, and insights I gained through my work experience, education and cultural upbringing," he says, "I was more than ready to join the team of public health researchers."
Funded by a $5 million grant from Kaiser Permanente in 2008, the program aims to expand California's public health workforce in underserved communities. Master's degree recipients receive $15,000 for each of their two years. DrPH students receive $20,000.
In addition to the tuition coverage, Kaiser Permanente scholars also receive specialized mentoring from alumni and healthcare leaders in the field, paid summer internships at Kaiser facilities and community-based safety net organizations, and skills-building workshops and academic support.
---
In the last decade, the program has awarded 182 scholarships to students pursuing MPH and DrPH degrees at Berkeley. Almost all are underrepresented minorities. Graduates of the program have now spread across California to improve the health of vulnerable populations. Of program alumni, 43 percent work for a health provider, 15 percent work for a city, county, state or federal health agency; and 14 percent are engaged in research to reduce health disparities.
When Piña started his career at Berkeley as a Kaiser Permanente scholar, he joined a growing "club" of public health professionals and researchers working to advance population health.
Others in this group include Nancy Pham, who earned her MPH in 2012 to complement a career in direct patient care. Raised in Boise, Idaho, by parents who had escaped Vietnam, Pham had spent many years volunteering for community-based projects—counseling women on a cancer helpline, helping to seek donors for an Asian-American bone marrow registry, and tutoring high school kids.
"I love community health clinics. I grew up going to them when I was a kid, so for me it's very familiar. I wanted to be able to contribute back to the community in this way."
As a Scholar, Pham had the financial freedom to pursue a volunteer opportunity with the California Department of Public Health, where she worked on a gonorrhea survey. That experience, in turn, led to a summer epidemiology internship with the department. After graduation, Pham decided to add clinical skills to her repertoire and received training as a nurse practitioner at Yale University.
Pham recently returned to the Bay Area for a postgraduate nursing fellowship at Asian Health Services in Oakland. "I love community health clinics," she says. "I grew up going to them when I was a kid, so for me it's very familiar. I wanted to be able to contribute back to the community in this way."
Since Pham's cohort, the number of scholars admitted each year continues to grow. In 2009, 13 students received the scholarship. 2018 saw 24 new Scholars and, by 2020, the annual cohort of scholars will grow to 30.
"The fact that Berkeley has such a scholarship tells me that the School is practicing what it preaches," says Maribel Diaz MPH '11, who was in the first cohort of Kaiser Permanente Public Health Scholars. "It's not just that they're teaching students about health disparities, they're actually funding students who are interested in this area."
For program alumni and current students, the Kaiser Permanente Scholars Program is emblematic of something beyond the funds it provides. "I was excited that there was some resonance at Berkeley for the kind of work I had been doing," says Jennifer Martinez MPH '13.  "Before I came to Berkeley, I had a sense that work with vulnerable populations was valued. But if there's money attached to that, it's more meaningful. It shows a commitment from the School and its partners."