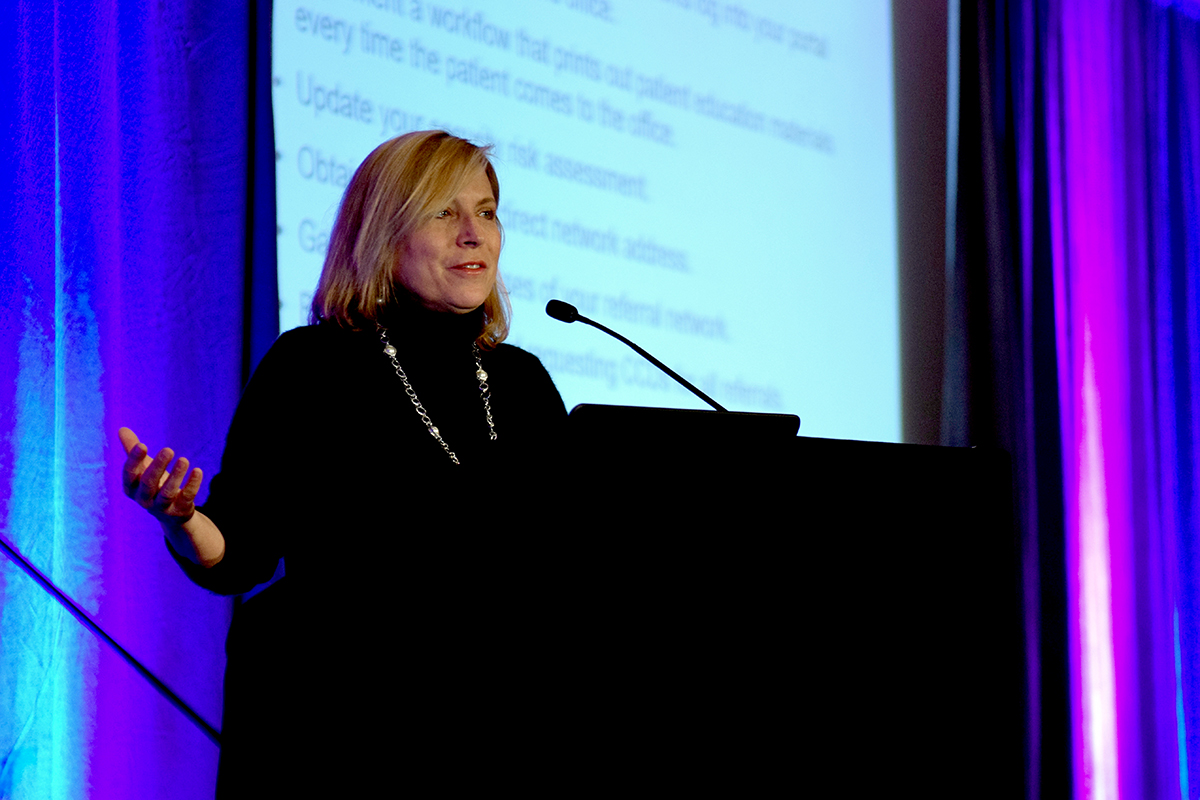 Lynn Barr MPH '10 was born in Queens, New York—as urban as you can get in the United States. But throughout her life, personal and professional experiences led her away from the city and toward a passion for meeting healthcare needs in rural areas.
One such experience came when she was an intern at California Health and Human Services as an MPH student at the School of Public Health. As part of that internship, she convened healthcare stakeholders across the state—hospitals, academic medical centers, FQHCs, and so on—to collect data for the strategic plan for Health Information Technology and Exchange. "My dream was to build a really robust database of information," she says. "To see what really happens to patients when they get health care."
But throughout this process, most providers were reticent to share their data, except for rural providers. Barr saw an opportunity. With 60 million people living in rural areas across the country, she believed that data from rural health systems—the "anchors of their communities," as she calls them—could shed light on how to best care for this slice of the American population, at less cost. "That was the birth of Caravan Health," says Barr.
Today Barr leads a company called Caravan Health, which works to aggregate patient data, improve health care while cutting costs, and advocate for public health training in rural areas across the country.
Barr first moved to California in 1986, when she joined the army as an emancipated minor at the age of 17. She worked as an army lab technician while earning her degree, eventually moving on to lab supply sales and then marketing, before finding her professional home in medical device and pharmaceutical development. She spent the next decade leading multiple start-ups and steering 13 products through the FDA approval process to worldwide markets.
But while testing that 13th product, a two-millimeter microsyringe, she began to question if she was working in an area of health care that actually helped populations. "Nobody uses these products as they're designed in a clinical trial," she says. "I just wanted to help people, but I wasn't really sure if I was helping them or causing them harm."
In 2004, her husband Steve was diagnosed with an aggressive cancer. While some doctors said that nothing could be done, others said that more treatment—and more medical fees—could save his life. "But they couldn't," says Barr. Her husband passed away six months later. "We spent that six months in the hospital, instead of being with his family."
Barr's distrust of fee-for-service healthcare grew. "We all die eventually," she realized. "But how we die in the United States is a tragedy." She took a break from her job as a product developer to think about her career in health care. "That was when I decided I wanted to create this data warehouse," she says. She then applied to the UC Berkeley School of Public Health.
After graduation, Barr took a job as the Chief Information Officer at a hospital near Lake Tahoe ("Tough duty," she jokes. "But it's rural!"). In this position, she networked among other rural providers across the country and officially started Caravan Health to assemble these providers into Accountable Care Organizations (ACOs), in order to consolidate their data, receive more data from the government, and use that data to improve health care in rural areas.
The company started with a single ACO, including providers from four states covering 50,000 patients. That number has since grown significantly. Caravan Health now spans 20 percent of the nation's rural hospitals and health systems, in 33 states and Guam; covers more than a million patient lives; and saves an average of 2 million dollars of healthcare costs per ACO.
"With all that data you can really understand what's happening with the community," says Barr, "with the patients, where patients were going for care, what works and what doesn't."
And what works, according to Barr, is public health training and immunizations to coincide with case-by-case medical treatment. Caravan Health uses its database to enact interventions, such as training workshops for nurses in public health and preventative care.
"Our belief is every doctor needs a nurse that will work on the wellness, prevention, and chronic care management of his or her patients," says Barr. "My whole career I always thought it was going to be some invention that would save the world. Now I realize it's public health."