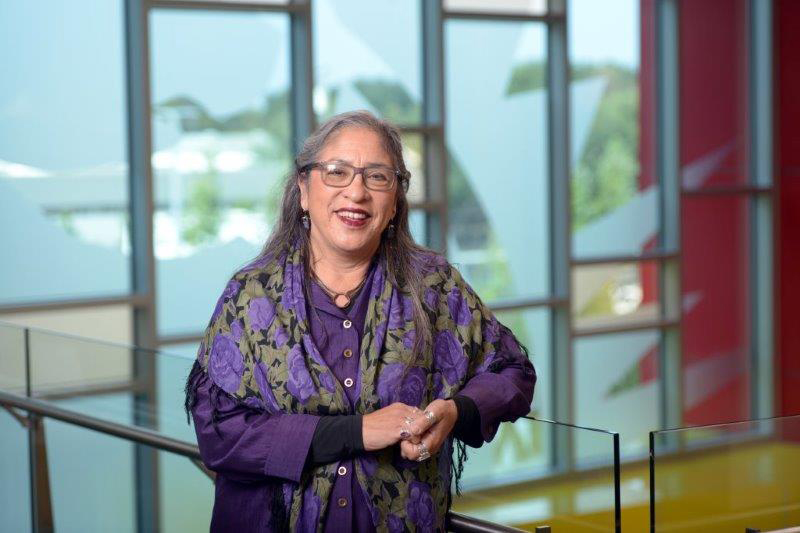 Luisa Buada RN, MPH '90, recalls her mother always had missionary magazines strewn about their Bay View house. The message she received from these pages was that you were supposed to use your God-given talents and get an education in order to help others.
Her mother was a registered nurse who worked at a UCSF hospital. Yet, as a teen, Buada says she didn't want to go into health care. "Particularly, I had planned to be a teacher," she says. "Pretty much for women at that time, it was teaching or nursing. Those were the sort of things I really saw around me."
However, Buada's path would soon lead her back to health care and nursing. Currently CEO of Ravenswood Family Health Center in San Mateo County, she has founded four community health clinics in California and been instrumental in the operations of many more. Although she never became a teacher, she now enjoys mentoring the next generation of community care professionals.
As an 18-year-old college graduate from UC Santa Cruz, Buada went to work for the United Farm Workers (UFW) union in Coachella. It was the summer of 1973, and she was helping people in need to get food stamps. While there, a nurse recruited her to help as an interpreter at the UFW clinic for farmworkers in Salinas Valley.
This job exposed her to the inequalities and injustices in health care.
Before the Emergency Medical Treatment and Active Labor Act (EMTALA) was passed in 1981, emergency rooms could turn away people without insurance or a way to pay.
"Women who were pregnant and in labor were turned away and told to come back when they were farther along," Buada remembers. "They were not given fetal monitoring and nobody was checking on any of that stuff, so people lost babies. A woman also could be sterilized without her consent until a law was passed in 1978. All kinds of really bad things were happening to farmworkers and women."
Buada became interested in single-payer, healthcare for all, and building a diverse workforce of health care providers. She adopted the motto of a pin she wore that read "health care for people not profit," and decided to go into nursing after all. She enrolled at UCSF in 1975.
Buada knew she wanted to go back into primary or outpatient care as a nurse, but the United Farmworkers Union had closed their clinics while she was in school. She applied to work at the Monterey County Public Health Department because they had outpatient services.
"My experience of public health as a child was getting immunizations," recalls Buada. "My mom used to take us to the Public Health Department for smallpox and polio vaccines. So I was familiar with the Public Health Department as a patient."
Initially she worked with a pediatrician in a mobile clinic conducting screenings and immunizations for farmworkers' children. They would often see 30 to 40 4 and 5-year-old children in a labor camp in a single day.
At age 25 Buada became a home-visiting public health nurse doing TB follow-ups, prenatal and newborn visits, and child abuse and neglect checks from Salinas to San Ardo in the Salinas Valley. Then a unique opportunity arose to found a new clinic for farmworkers, Clinica Popular del Valle de Salinas.
"I started working on the Salinas clinic with a group of nurses from the UFW clinic, which had closed, but by the time the new clinic got funded and we were ready to open, everybody else had moved on," says Buada. The consultant suggested she apply for the executive director position, but Buada hesitated, as she had never run anything before. "He said, 'All you need to know is how to ask the right questions and know when you're getting the right answers. Everything else comes with experience. You just do it."
Buada ran the clinic for three years. What followed was many years of consulting for beleaguered clinics and clinics doing strategic planning throughout the country. "I started getting all these requests from local clinics," she says. "How to improve their operations; how to help them plan a renovation; writing policies, procedures and grants; doing compensation surveys and strategic plans."
Buada met Professor Henrik Blum while working on a strategic plan for the Over 60 Health Center in Berkeley. "He said to me, 'You know, you're good. You have really good ideas and good thinking. But you need to go and get a Master's degree in public health. Because one day the fact that you're a nurse and you did this work isn't going to be enough.'"
Convinced, Buada applied and was accepted to the UC Berkeley School of Public Health a week before the application deadline closed. She received a full scholarship through a program that paid tuition for ethnic minority nurses getting their Master's degrees. "Half the class were people like me, who came out of the field of public or community health," she says. "We had a great class and I still communicate with many of these people."
After earning her MPH, Buada dove back into community clinic work. She founded a clinic at Herrick Hospital in Berkeley—the Berkeley Primary Care Access Clinic—in order to provide access to primary care for Flatlands residents and MediCal patients.
In 1996, Buada helped merge the Berkeley clinic with two other small clinics to form LifeLong Medical Care. She recalls that, at the time, their midwifery clinic was delivering about 450 newborns a year. The midwives had a 13 percent C-section rate compared to 28 percent for the rest of the OBGYN private physicians delivering at Alta Bates Hospital. "We were seeing women who were V backs, breeches, twins, on heroin or cocaine or meth, it didn't matter," she says. "If they didn't have a medical condition that would require them to go to high-risk OB, the midwives could deliver them. It was pretty amazing."
In 2002, Buada was asked to come down to a San Mateo clinic for three months to teach them everything she knew. "I was only going to be here for a little while and then I said 'well, two years,' but we couldn't find anyone that could do everything and start a clinic from scratch," she says. "And I ended up staying."
This was the Ravenswood Family Health Center in East Palo Alto, where Buada has now served as CEO for more than 15 years and which she describes as "my 'opus magnum.'" Under Buada's leadership, what began as a small modular building with 13 employees has grown to a custom-built 38,300 square foot facility with more than 200 employees. The center provides critically needed health care services to predominantly low-income, uninsured, and undocumented residents in San Mateo County. For her work there, Buada has been hailed as an "East Palo Alto hero" and was inducted into the San Mateo County Women's Hall of Fame.
Despite her entrepreneurial spirit, there are plenty of challenges at the more established Ravenswood to keep Buada motivated to stay. "We added health care for the homeless via mobile services," she says. "We added a satellite site. We built a dental clinic. We have a pharmacy. Every one of those are like little startups."
At age 65, Buada is looking to pass on a legacy of experience to her successor before she retires at 70. She also has a vision of leaving the next generation of clinic defenders on more solid footing to do their work. "I don't want them to have the same struggles around raising money," she says. "I want them to have the space and the circumstances to be focusing on the services and not on fundraising."
Reflecting on her career, Buada feels best about being able to offer jobs in health care to diverse people in her community, giving them opportunities that other places may not provide.
"We've been able to give jobs to many people in the community over the years, especially to women and single moms, and see them grow and develop and come into themselves," she says. "And that's been a great joy for me."