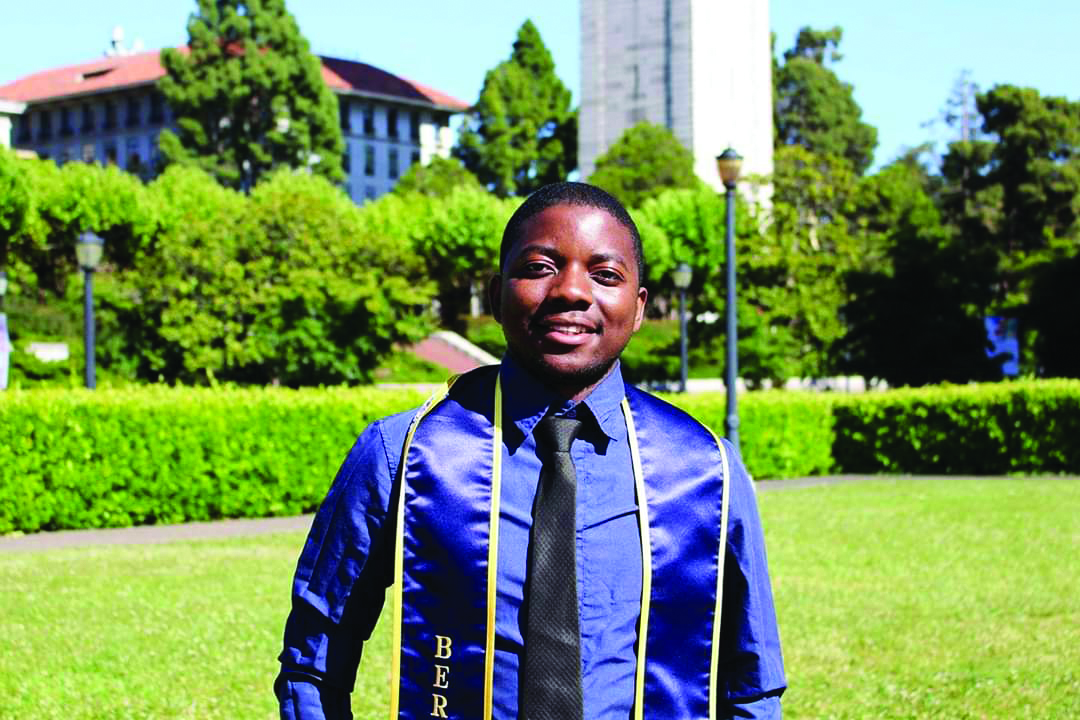 After crossing the graduation stage in 2017, James Tayali was on his way to Austin, Texas, to begin a job with Blue Goji, a fitness video game company co-founded by Cal alum Coleman Fung. It was the next step in an already eventful journey toward a career in health innovation to benefit communities.
Tayali hit the ground running as a freshman. When he first arrived on the UC Berkeley campus, he already had a passion for public health—one that stemmed from his own childhood experiences in Malawi, Africa.
When he was five years old, Tayali lost his father to meningitis. Only a few years later, his mother died of malaria. He then lived with extended family members. Later, an older Tayali started to have questions about the health system in his home country. "Maybe they just didn't have better services to provide better care, so they didn't survive," he reflects.
Tayali was the first Malawian undergraduate student to attend UC Berkeley. He knew on arrival that he wanted to study public health. His dedication to his family translated into a commitment to improving his own country.
"My goal was to make an impact in my community," he says. "That way, when I come back to Africa, I can create programs or some healthcare initiatives that can provide access to care to many people that need it."
UC Berkeley opened Tayali to a world where people are researching and acting for better public health. "It could be NGOs, it could be international clinicians, it could be just a professor with some interesting research," says Tayali. "It's what drives your passions when you see what other people are able to do when they are going beyond the limits to make something work."
As a sophomore, Tayali interned with the Kenya Medical Research Institute, where he worked on a mapping project in Kenya's Kisumu slums to mitigate gender-based violence—using tech and geo-referencing to promote community health.
He then applied and was accepted to the Fung Fellowship for Wellness and Technology Innovations—a two-year fellowship program founded by Coleman Fung to train undergrads to develop technology solutions to address real-world public health challenges facing at-risk populations.
"I really learned a lot from that program because it walks you through from design to ideation to prototype production and execution of the project," says Tayali, "so they taught us a lot about how to design for the community."
During his time at Berkeley, Tayali also developed a Malawi-based startup called Keki-Mawe, which targets nutrition and maternal health by distributing locally produced, iron-rich powder and cookie products. This project received funding from the Clinton Global Initiative. This experience taught Tayali the value of collaboration.
"I realized that the things on the ground are a little bit different; You need to have stakeholders," he says. "These are the community leaders, the government, and also the universities around who can help me to design the product I wanted, and also to see how I can reach the communities I needed."
Following his contract role at Blue Goji, Tayali has committed to returning to Africa, to continue to leverage technology and business for public health from within his community. In November he returned to Malawi. "One thing I learned in public health is that we are not always the problem solvers," he says. "Sometimes you have to solve with the community."
In January, Tayali will proceed to South Africa. The University of Cape Town has recently awarded him a Mandela Rhodes Scholarship to pursue a Master's degree in Health Innovation. From there, he imagines earning a PhD before returning to Malawi to teach human-centered design or technology projects.
"I think it's really important when you come into communities you're not just coming in as a savior from abroad, but you've been living with them and you actually design with the communities," says Tayali.
"These are my passions," he continues. "Empowering communities with knowledge, expertise, and maybe even resources available as we continue to fight against some of the diseases that we're seeing in Africa."