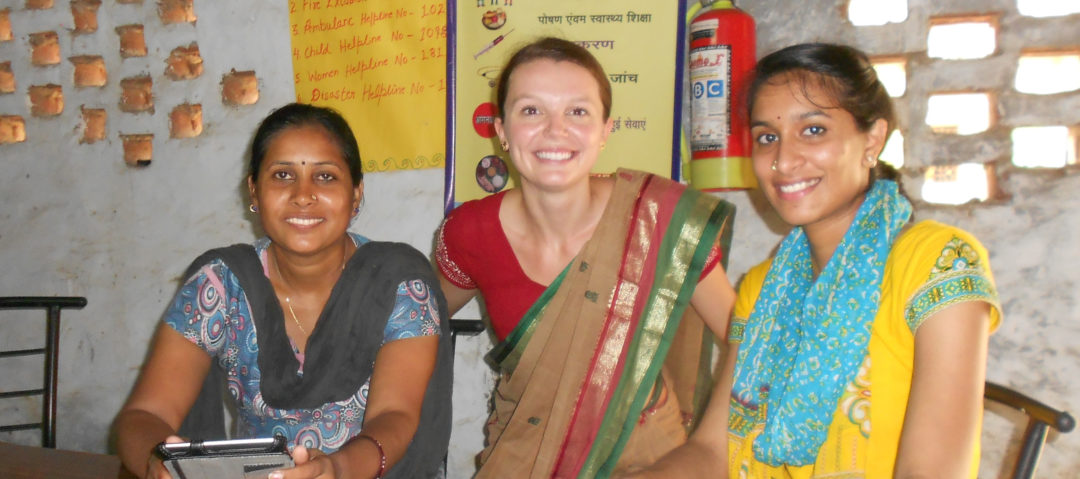 Jessica Watterson remembers becoming aware of the concept of privilege at age 7. Born in Germany, her parents moved her to Colorado when she was an infant, and she grew up in the United States. But at age 7, her family moved to the Caribbean because her father was attending medical school there. He drove her to school and she noticed they were passing other students who had to walk, sometimes far distances.
"Being out of the United States for the first time as a child, I was exposed to more things," she said. "Realizing others were less fortunate than me made me determined to help them. I decided I wanted to contribute to the world in a positive way."
This newfound determination eventually led Watterson to New York University to earn a bachelor's degree in Biochemistry with the idea of becoming a doctor like her father. But some public health courses altered her path.
"Before that, I thought in order to work in health, you had to be a clinician," she said. "But I immediately loved the focus on prevention and addressing issues at a population level. It makes so much more sense to me to improve our community, improve the environment, improve things all at once instead of just the individual."
After graduating from NYU, Watterson worked as a health educator at a small nonprofit in India called Children's Resolution and Women's Learning Society and taught health topics such as family planning and breastfeeding. She also worked with Doctors without Borders in New York as a communications intern and helped with events and monitoring press coverage.
Watterson was drawn to the UC Berkeley School of Public Health for its reputation as being committed to social justice and having close ties to the surrounding community, as opposed to being an "ivory tower." She earned her MPH in Health Policy and Management in 2011. One course that has stuck with her was a class on mHealth taught by Caricia Catalani.
"I was fascinated by the innovative health applications that mobile phones were being used for around the world," she said. The class sparked her interest in health and technology, an area she continues to conduct research in as a Health Policy PhD student.
The "fantastic" mentors and faculty members enticed Watterson to come back to the School of Public Health for the Health Policy PhD program.
"I really like the faculty's support and cross-disciplinary work at the School," said Watterson. "Both during my MPH and PhD programs, faculty have consistently been very open to meeting with and working with students. I think this collaborative atmosphere is so important for an environment that fosters learning."
Watterson said she appreciated the diverse backgrounds of the faculty and close ties the school holds with other schools on campus. Because of that, she had the opportunity to take classes at the Goldman School of Public Policy, Haas School of Business, the Political Science department, Psychology department, Education department, and more. In addition, she has worked in teams with economists, engineers, computer scientists, and psychologists, among others.
Currently, she is researching the factors that influence health information (HIT) innovations on improving care or health outcomes. Watterson said though the use of HIT innovations (like electronic medical records, telemedicine, and mHealth tools) is increasing around the world, relatively little is understood about which innovations are effective at improving outcomes and how they do so. Watterson aims to fill this gap in the literature.
"Being a part of the School of Public Health means being involved in projects, programs and research that strives to improve people's lives," said Watterson. "The commitment of my fellow students, staff, and faculty to improving health, particularly of marginalized communities, is incredibly inspiring."
In the future, Watterson hopes to work on maternal health issues. She believes women dying in childbirth is one of the world's biggest public health problems, and wants to see it solved in her generation.
"It's not really a technology issue, it's improving health systems and making sure everyone has access to the technology we already have," she said. "We need better health programs around the world."
Her advice to students at Berkeley is to embrace meeting new people and trying new things.
"As a student you get so many opportunities to try new research methods, to attend talks or classes on topics you've never thought about, or to reach out to someone who does fascinating work and they are often willing to talk with you," said Watterson. "In my experience, these opportunities are not as widespread when you are not a student, so I would say to try to make the most of it while you're here!"